Steel Structure Poultry House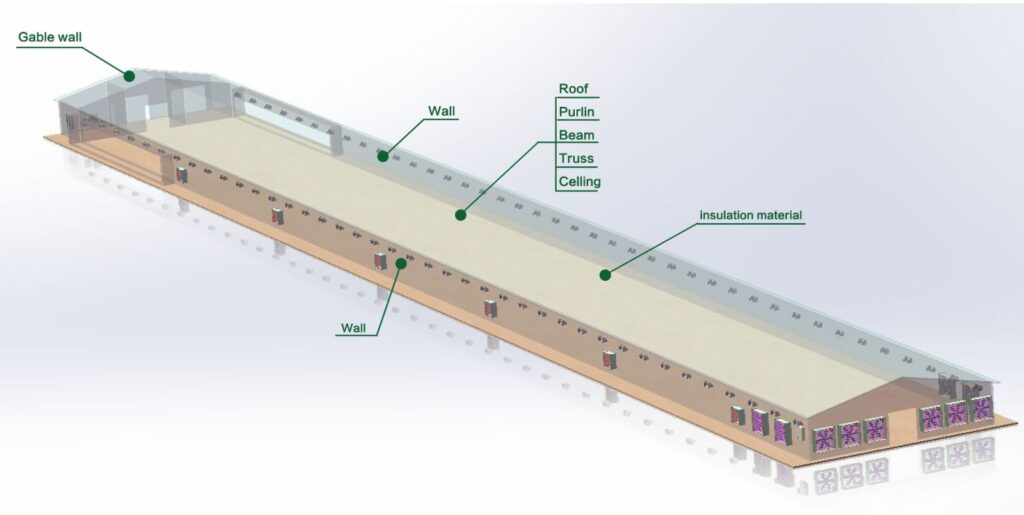 Features
| Model  | Size/m | Column distance | Roof sheet/thk.  | Celling sheet /thk.  |
| --- | --- | --- | --- | --- |
| FRSS-12012P | 120x12x2.5 | 3m(C-chanel)   4m(Square steel) |  v840    0.35mm | v840    0.35mm |
| FRSS-12015P | 120x15x2.5 | 3m(C-chanel)   4m(Square steel) |  v840    0.35mm |  v840    0.35mm |
| FRSS-12012E | 120x12x2.5 | 3m(C-chanel)   4m(Square steel) |  v840    0.35mm |  v840    0.35mm |
| FRSS12015E | 120x15x2.5 | 3m(C-chanel)   4m(Square steel) |  v840    0.35mm |  v840    0.35mm |
| CRSS-12013 | 120x13x4.5 | 3m(C-chanel)   4m(Square steel) |  v840    0.35mm |  v840    0.35mm |
| CRSS-10012 | 100x12x3.7 | 3m(C-chanel)   4m(Square steel) |  v840    0.35mm |  v840    0.35mm |
Advantages
■ Hot galvanizing material, high corrosion resistance.
■ Glass wool insulation material, good heat insulation.
■ Design as local climate conditions,and strictly in accordance with the standard to ensure the strength of the steel structure.
■ All of the steel comes from China's top 3 steel factories with high quality and  corrosion resistance.