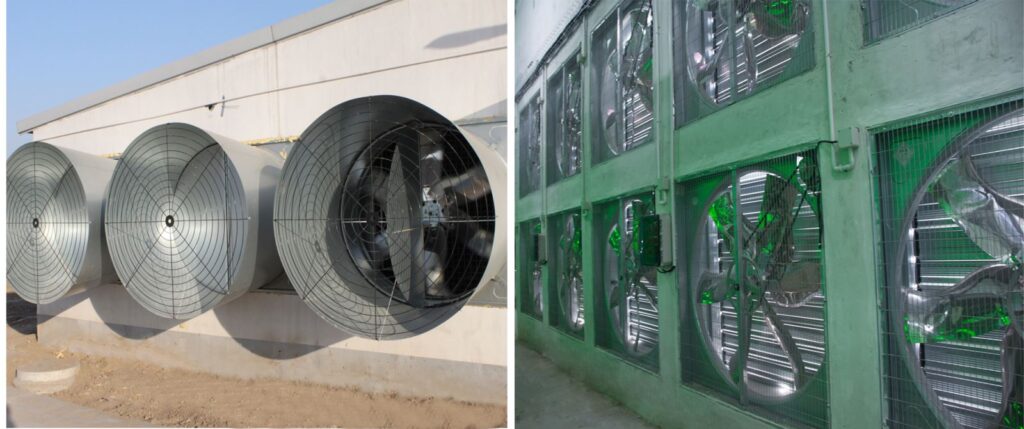 Features
| Model | Blade Diameter/inches | Frequency/Hz | Current/A | Input Power/Kw | Voltage/V | Rotational Speed(r/min) | Size/mm | Type |
| --- | --- | --- | --- | --- | --- | --- | --- | --- |
| HL-FGB1380 | 50" | 50 | 2.8 | 1.1 | 380 | 460 | 1375x1375x450 | Box Type |
| HL-FGB1000 | 36" | 50 | 1.2 | 0.4 | 380 | 710 | 1000x1000x450 | Box Type |
| HL-FGC1380 | 50" | 50 | 2.8 | 1.1 | 380 | 460 | 1375x1375x1270 | Cone Type |
| HL-FGB1000VFD | 36" | 50 | Variable | 0.4 | 380 | Variable | 1000x1000x450 | Box TypeVFD |
Advantages
■ High quality Galvanized sheet steel with a minimum of thickness 275g/m² to ensure corrosion resistance and longevity.
■ Six Blade stainless steel fan giving a high air volume moved with low noise and vibration.
■ The Pulley is made from Aluminum Manganese alloy giving high strength to weight ratio.
■ The Cone is designed for optimal air movement and fan efficiency.
■ All fans have been thoroughly test prior to installation.