Steel structure house is one of the best device for swine farm.The steel stucture is one very important part to good ventilation system and swine growth. Huali Co.,ltd professional tailor solution for steel structure, including beam,purling,truss,roof sheet, ceiling sheet etc.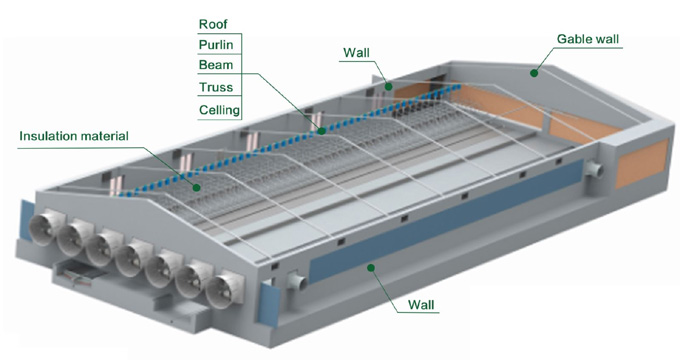 Features
Model
Size/m
Roof sheet/Thk
Celling sheet/Thk
Unit/House
Application
Wind load
HL-SS 70×31
70x31x2.4
v840, 0.35mm
v840, 0.35mm
8 rows /house
Mating &gestation house

60-250 km/h,

depends on design

HL-SS 60×16.5
60×16.5×2.4
v840, 0.35mm
v840, 0.35mm
2 Unit /house
Farrwowing /Finisher house
HL-SS 80×35
80x35x2.4
v840, 0.35mm
v840, 0.35mm
6-7 unit per house
Farrwowing /Nursery  house
Advantages
■ Fast fabrication and building.
■ Simpler foundation and lower cost of civil work.
■ Good for opening and fan installation.
■ More sealed and air prove.
■ Long durability and low cost.
■ Better result of ventilation
■ More availability, different structure for different requirement.
Frame/Roofing,Wall & Gables
Purlin, Beam & Truss
■ Light and strong H & C profile. Less weight materials means lower cost.
■ 100% galvanized and 100% fully bolted.
■ Footing system=simple and firm footing system=easy and quick installation.
■ Snow load-no limitation.
■ Wind speed=complete adaptability to any conditions.

Roofing, Wall, Celling & Gables
■ External and internal faces: Galvanized and lacquered profiled steel sheets.
■ Insulation: customized materials
■ Door: insulated various sizes and color available.
■ Windows: double-glazing with Aluminum or PVC frame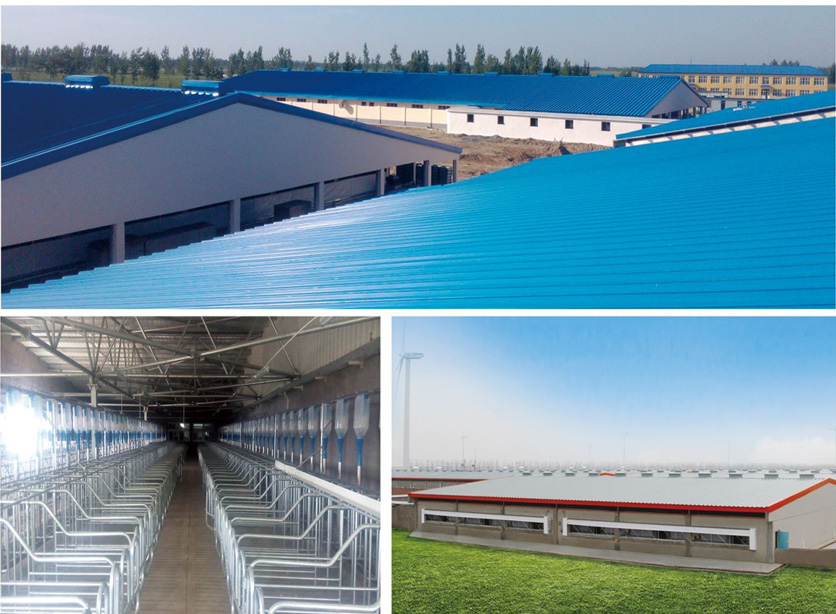 Insulation Material

( Glass wool,Rock wool & EPS )
Glass wool,Rock wool&EPS Technical Specifications:
| ITEM | UNIT | Glass wool | ROCK WOOL | EPS |
| --- | --- | --- | --- | --- |
| Density | kg/m³ | 30-80 | 120-150 | ≥42 |
| Coefficient of thermal conductivity | W/m.k | ≤0.04 | ≥0.04 | ≤0.04 |
| Compressive strength | kg/cm² | ≥120 | ≥150 | ≥150 |
| Water absorption | V/V, 24hr, % | ≤3.9 | ≤3.9 | ≤0.118 |
| Fire retardance | Oxygen index | A2 Grade | A Grade | B2 Grade |
Glass wool,Rock wool&EPS Technical Specifications:
| ITEM | INDEX |
| --- | --- |
| Steel sheet: | Up/bottom 0.4-0.5mm, colored steel plate, pained and galvanized |
| Type: | H-style board & match board |
| Width: | match board-950mm,1159mm(Effective width); |
|   | H-style board-1000mm,1200mm(Effective width); |
| Thickness: | match board-40-100mm; |
|   | H-style board-25-100mm; |
| Length: | According to the requirements and transportation terms |
| Color: | According to the requirements (Regular color is White Gray, Navy blue) |

Mating & Gestation House(8 rows/house)